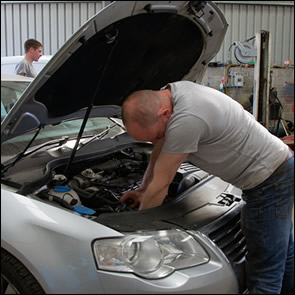 PRE NCT
We also provide a PRE NCT check for your car, which included a full check over of your motor. Our workshop is fitted with a lift to see & check all the extras the NCT check your motor for. A motor check can take up to 30-40 Minutes to test all parts such as shocks & suspension, link arms, bushings & springs etc.
We also carry out full & minor services

Minor service – oil change & (oil & Fuel filter) from €40.00 onwards

Full Service – Oil Change & (oil, air, fuel & pollen filters) from €55.00 onwards
We also provide tracking of steering & focusing of lights, wiper replacement, bulbs replacement. You can be certain nothing will be a miss when you get your car checked with us. Our pass rate is highly noted by our current customers when testing for the yearly NCT.
Computer Diagnostics
Due to advances in technology and the increasing use of computer technology in today's society, most or all vehicles now use computer diagnostics. From engine management lights, electrics, ABS, EBS and service lights, computer diagnostics are a vital part of the mechanical industry.
At Billy Moran & Son's Ltd we have this technology for your vehicle with plug in units. Computer diagnostics can check to detect engine problems, emissions, injectors, wiring & many other common dash symbols that may appear on your journeys. This system can give an accurate on the spot reading which can give an indication to what the vehicle requires. On other cases it can be more complex on a basis of process of elimination; when many problems are listed.
Our computer diagnostics are suitable for the following:
Private Vehicles and cars

Commercials – vans, jeeps & lorries

Excavators- Hitachi diggers