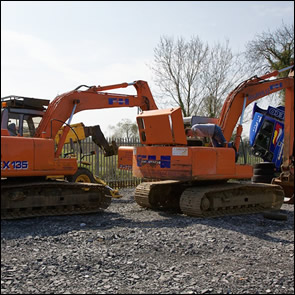 Machinery & Plant Sales
Our main plant stock is made up of HITACHI and JCB machinery as we specialise in these two popular makes which are world renowned for their excellent quality and performance.
Excavator sales can range from Mini diggers to medium size to large ton diggers. Our plant and machinery stock are checked and serviced before the customer receives their machine. We can fit specialist buckets, quick releases, wiring extras and extend track pads to your requirements. Our mechanics are highly experienced and work regularly on many types of excavators. We also provide plant repairs for excavators at our workshop or we have a mobile unit that can come out to you, depending on the job description*.
* (Track chain & pad replacements are always carried out at our workshop as this job is time consuming & requires many facilities such as; gas, welders, hoists etc. )